The Dark Crystal Inspired by Stylin' Stacy
Hello there! I am Stacy of the blog stylinstacy.com. I am also an 80's girl, so I have seen most of the movies of the 80's.
Going through all of the movies definitely brought back some memories!
In the end I decided to do Kira from the movie, The Dark Crystal (1982). At the time this movie came out there really wasn't such a thing as CGI. It was all puppets and actual costumes, and this was a Jim Henson production. I loved it.
My daughter sometimes reminds me of a little elf, so I thought this would be the perfect character for her.
I still wanted her to be able to wear this outfit out and about, so I decided to do some of the costumes accents on it. Overall, it is a wearable costume that she can still wear to school.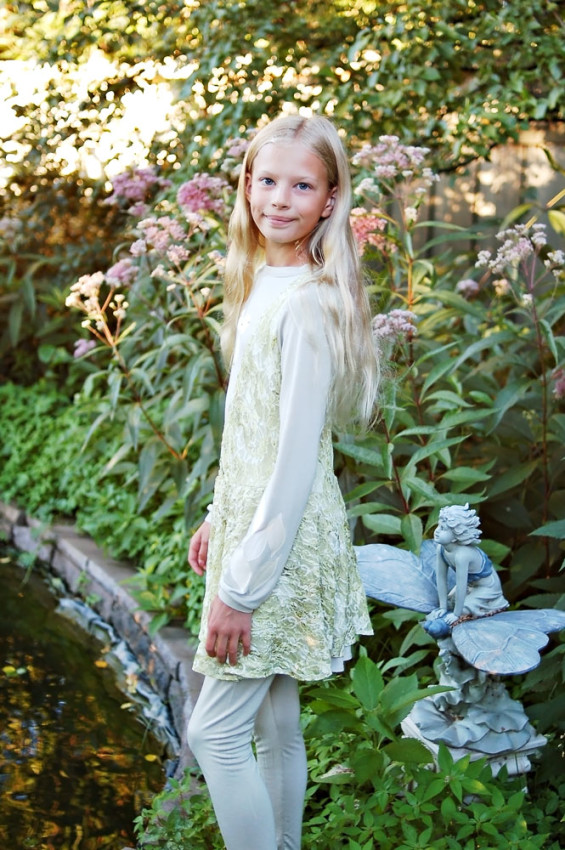 I made it in two pieces, with a top and leggings. I decided on long sleeves, since we have a 3 month summer and then is it cool or cold the rest of the year. This is the first in her back to school wardrobe.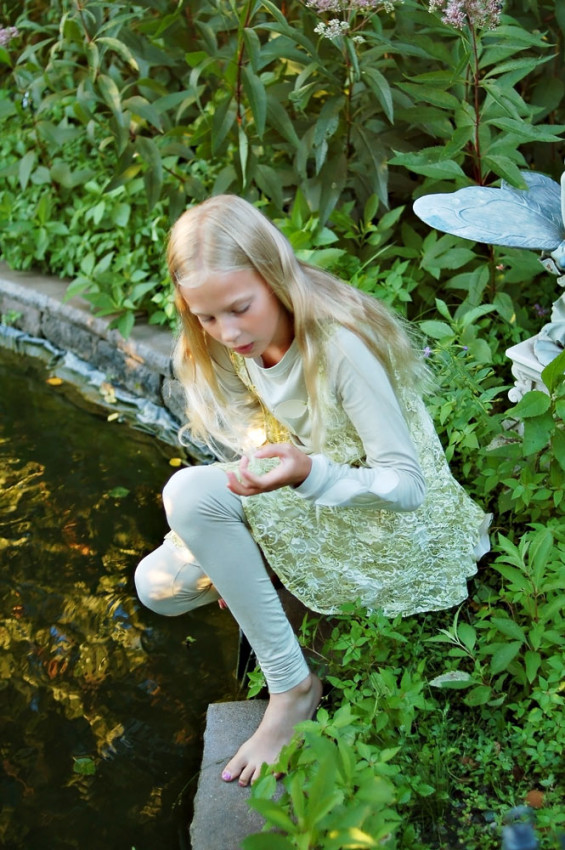 The top is very comfortable with knit and a stretch lace that I purchased at SR Harris in MN. If you ever get to the Minneapolis area, it is a destination for fabric lovers. A huge warehouse full of the fabric!
The top is self drafted, but it is just a basic knit bodice with the circle skirt portion in layers. To finish the edges of the lace, I serged them and then turned them under and topstitched. A rolled hem would have worked, as well.
The leaf applique from the costume on the center bodice was replicated by applying Heat n' Bond to the backside of a cream satin. I drew out the design, cut it out and ironed it onto the knit. Then, I satin stitched around the appliqué. I added the beads, similar to the ones on the costume, but not too large.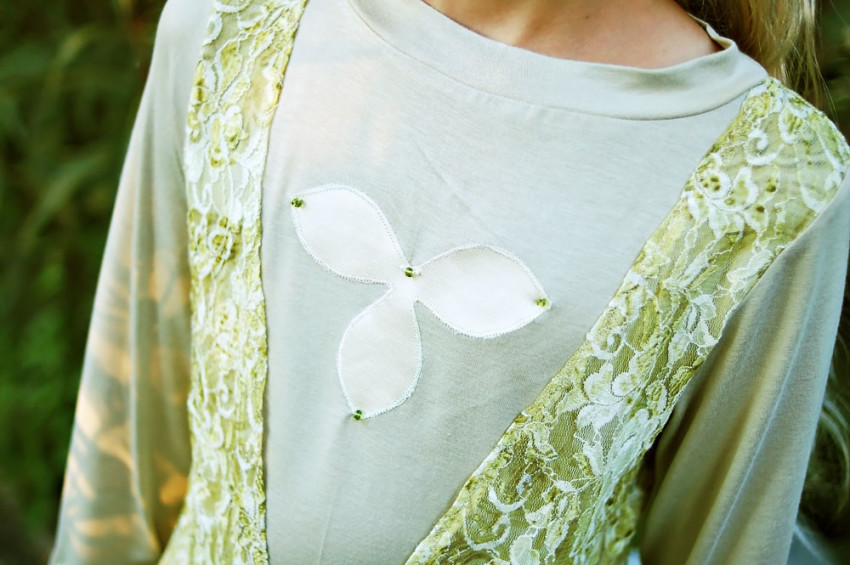 Individual satin leaves were added to the ends of the arms. HnB really makes this much easier. I applied it to the back of the satin, drew out my leaves, cut them out and ironed them on. I just did a straight stitch around the edges and down the middle to make them look like a leaf. Each leaf is unique, and there are four on one arm and five on another. I wanted them to be random, so they are even placed differently.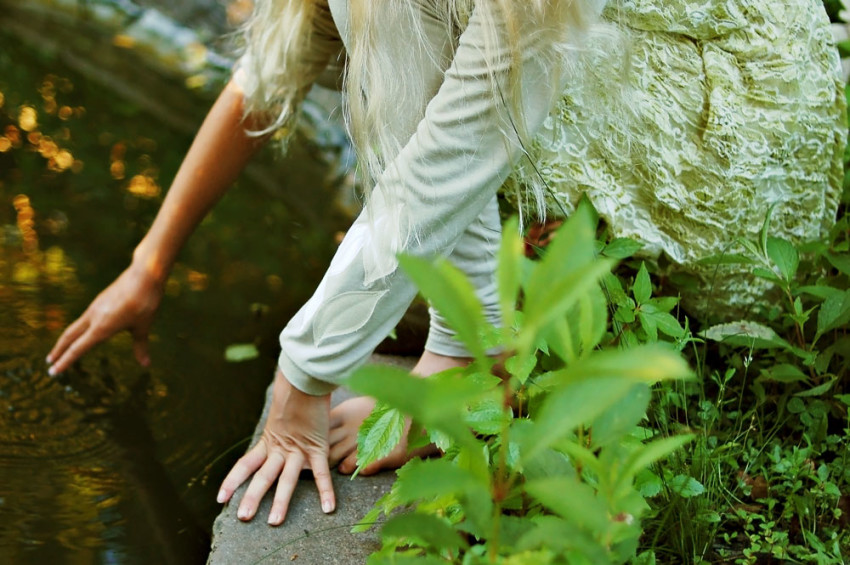 Underneath are matching leggings, which are Oliver + S Playtime leggings. The fabric wasn't very thick, so I am glad the skirt part of the top ended up being a little longer than originally intended. The knit is very soft and comfortable, so she loved how it felt on her.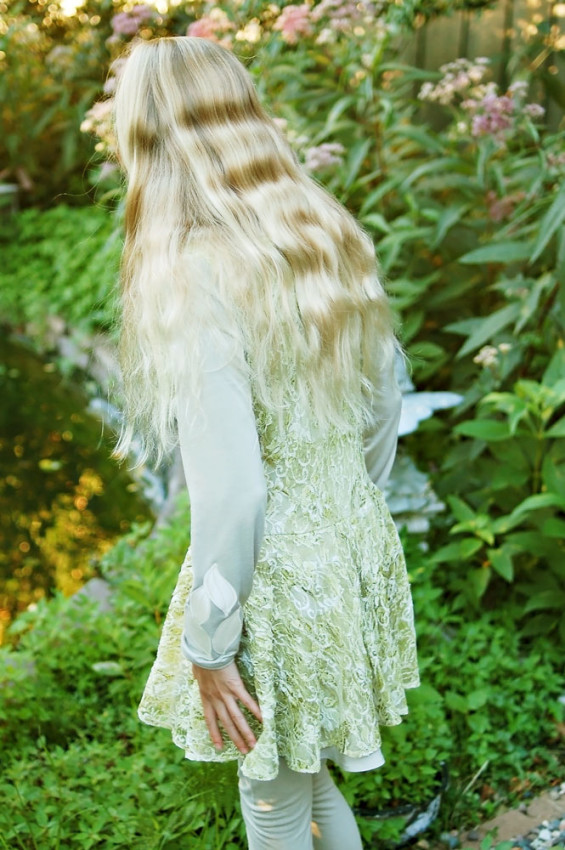 All in all I am very happy in how it turned out, and so is she!